The Pemberley Players are a group of musicians, with experience of playing music published in the 18th and 19th Centuries, who have been brought together by David Fleming-Williams. They are: Stephen Fellowes – Flute, Jeanne Mann & David Fleming-Williams – Violins, Jonathan Cohen – Piano, Francine Loze – Cello. They played all the Dance Music in the 2007 ITV adaptation of Jane Austen's 'Northanger Abbey'.
The Music for all the Dances on that recording are on the CD The Pride and Prejudice Collection. The notations for all the dances (plus lots more) are on the CD The Pride and Prejudice Collection Vol II.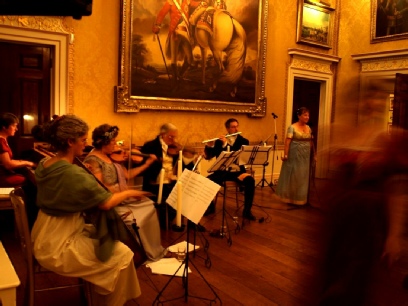 The Pemberley Players played at Brockett Hall, the room where the famous Netherfield Ball was filmed in the BBC production of Pride and Prejudice.
Next year will be the sixth anniversary of 'The Grand Jane Austen Ball', in Ansbach Germany.
Two of the Pemberley Players will be leading a new Quintet, the Pemberley Ensemble,
with outstanding musicians from Germany.